Elegant - naturally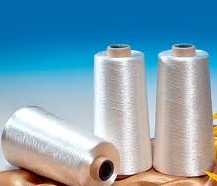 ORION - 100% Viscose Rayon – Filament yarn brilliant
Viscose Rayon – known as artificial silk – has always been characterized by its natural, silky touch and was always a leader in embroidery threads.
Due to the poor washing fastness of viscose, this has been largely replaced with our quality "SETAFIL PES" which in optics hardly differs from viscose, but guaranteeing significantly better dimensional stability of the embroidery after washing due to heat set possibilities.
Rayon embroidery thread is still being used, however, mainly for raw embroidery on cotton or viscose base cloths in order to get one piece dyed afterwards or dyed as a ready tailor made garment.
Therefore, we offer viscose from stock only in raw quality to our customers.
Colours though are still being produced on customer request.
Although usually only sold in raw, we want to point out that we only use the best quality of raw material from reputable and certified mills and provide following titers in stock:
» Dtex 84x2 - raw
» Dtex 133x2 - raw